With each passing swim season, fiberglass pools grow more and more popular. Ever since their debut in the late 60s, fiberglass pools have disrupted the market, offering a "greener" alternative to the traditional concrete pool.
Imagine a pool that requires half the maintenance of normal pools, installs faster and lasts longer. That's fiberglass pools in a nutshell.
And if you're reading this, then you're either thinking about upgrading to a fiberglass pool or want to learn more one.
In this post, we answer the most common questions about fiberglass pools and tell you everything you should know before buying.
10 Facts About Fiberglass Pools That Every Pool Owner Should Know
What is a fiberglass pool?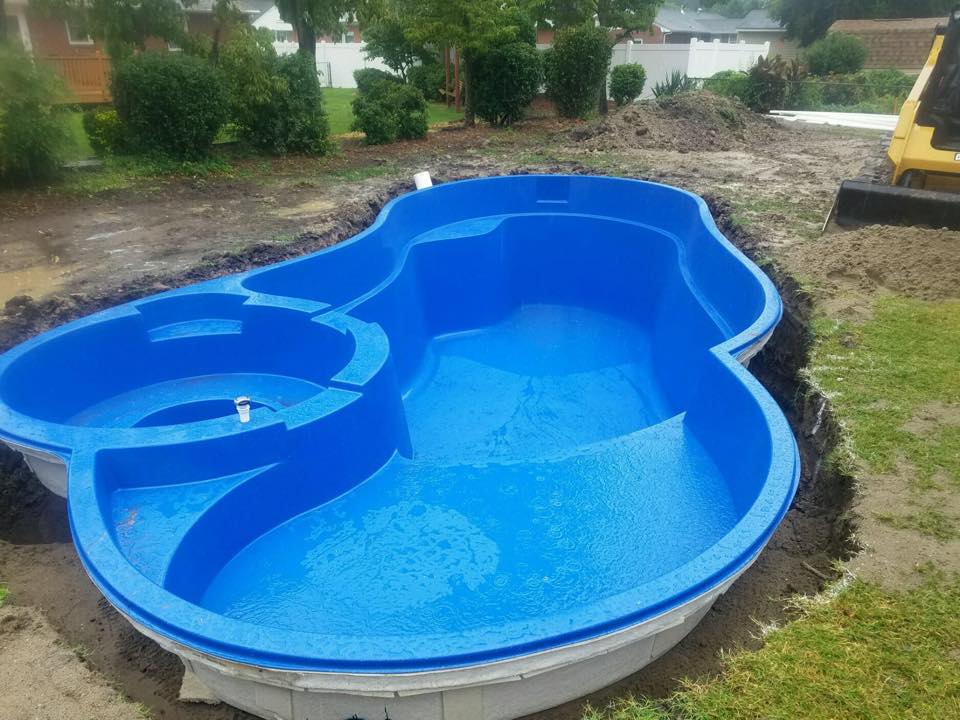 Let's define a fiberglass pool.
Fiberglass pools are "one piece swimming pools". They're prebuilt from a mold in a factory and shipped to location.
And in case you were wondering, fiberglass pools aren't only made of fiberglass.
The pool is comprised of several layers that add strength and support. The layers fuse together to form a tough and flexible fiberglass shell.
Fiberglass pools come in a variety of shapes, from rectangles, circles, and amoebas, to combination shapes with built-in seating and steps.
How much does a fiberglass pool cost?
The cost of fiberglass pools ranges between $15,000 and $70,000
The national average cost for a fiberglass pool is about $40,000 dollars.
Pricing for fiberglass pools involve two major factors:
The pool shell, and installation
A fiberglass pool shell itself ranges between $10,000 and $40,000. Pricing is largely dependent on the size of the shell, build quality, and included features (seating, stairs, ledges).
From there, installation adds another $15,000 to $30,000 to the total price. This is because the process involves multiple steps, from excavating the ground and installing the plumbing, to securing the shell and filling the pool.
So with the cost of the shell and installation put together, most fiberglass pools cost between $15,000 and $70,000.
How long do fiberglass pools last?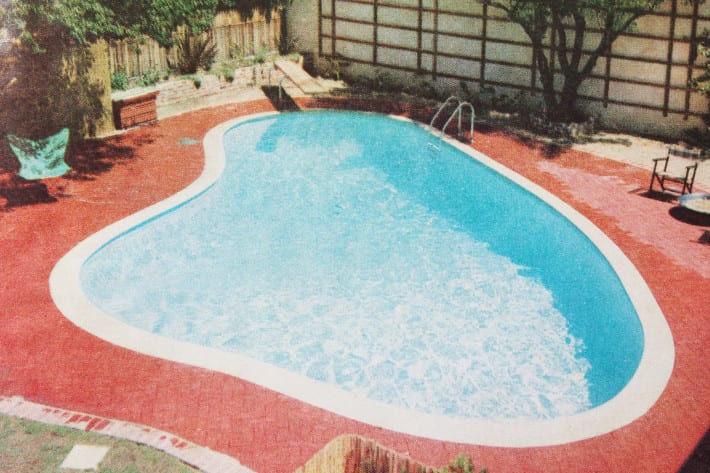 Fiberglass pools last more than 30 years, easily
Remember how we mentioned that fiberglass pools didn't come around until the 60s? Well, a lot of those same pools are still being used today.
Talk about durability.
Of course, despite their toughness, fiberglass pools do require some maintenance. While they don't have to replastered or re-lined, they do need a gel coating replacement every 15 years.
Luckily, this is incredibly cheap compared to the maintenance required by concrete and vinyl pools.
And because of this, it's easy to keep a fiberglass pool in the family for decades, as it only requires a touch of upkeep to do its job. And on that note…
How much maintenance does a fiberglass pool need?
Fiberglass pools are the most low maintenance
Of all the swimming pool types, fiberglass pools require the least maintenance. And by a large margin.
We're talking less than half the maintenance work you'd need to do for concrete or vinyl.
And it's all thanks to the waterproof gel coating on the surface of all fiberglass pools. This coating creates a non-porous layer that makes it nearly impossible for water or chemicals to get absorbed –  a common problem with concrete and vinyl pools.
Moreover, the gel coating also acts as a shield against pool algae and micro debris. Since it's mostly nonporous, it's harder for contaminants like algae to latch onto the walls and spread.
Bottom line: With a fiberglass pool, you don't have to brush, skim, or add chemicals as much as you would with a concrete or vinyl pool.
What are fiberglass pools made of?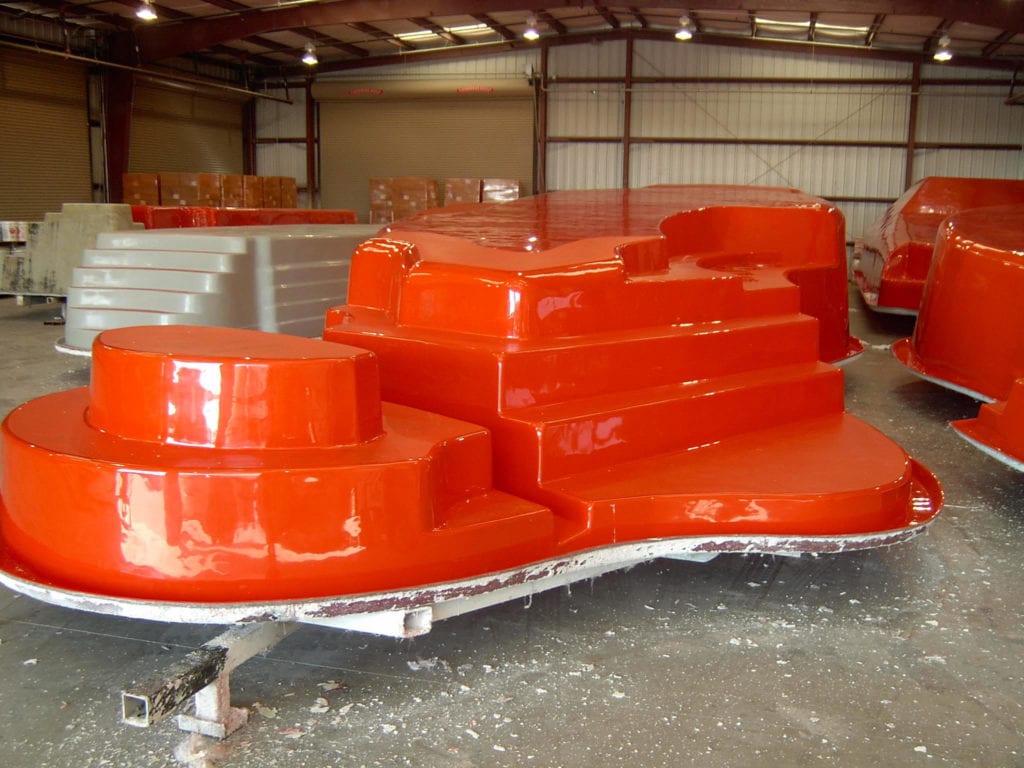 Fiberglass pools are made up of 6 different layers
We've mentioned the gel layer of fiberglass pools a few times already. And while it's definitely one of the most prominent  layers of the pool, there are at least 5 more layers behind it;
And each layer is made of a different material that combines with the others to form the pool shell.
According to the folks at the River Pools & Spa blog, a quality fiberglass is made of these layers: 
A gel coat surface layer

Provides a smooth, algae resistant surface finish to the pool. Protects layers underneath

Vinyl ester resin layer

Nonporous. Adds corrosion resistance and waterproofing

Chopped fiberglass layer

Adds strength to the shell

Roving layer

Reduces total stress on the shell

Structural comb layer

Additional support for tension points

Chopped fiberglass layer

Adds more strength to the shell
How are concrete pools made?
Fiberglass pools are pre-made in a factory and shipped to the location
While concrete and vinyl pools are built on site, fiberglass pools arrive ready for installation.
As previously mentioned, this is because they're factory built from a mold. This helps manufacturers produce pools with more speed and efficiency, while still offering plenty of options to choose from.
Since fiberglass pools arrive already made, their install time is also much quicker.
How long do fiberglass pools take to install?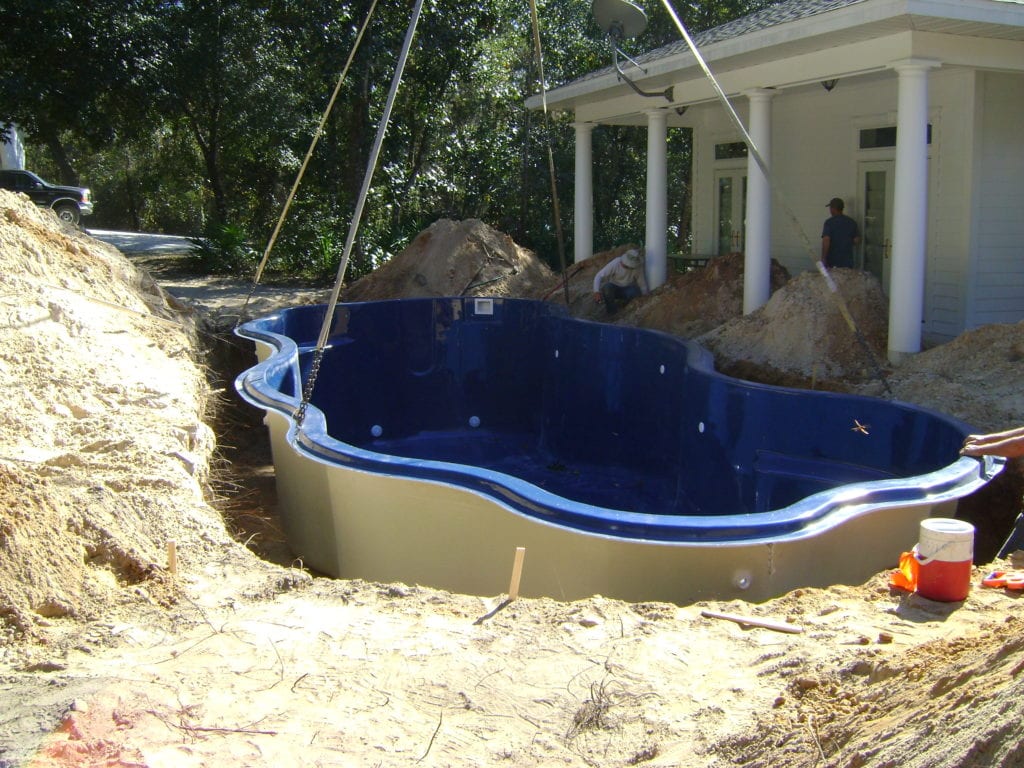 Fiberglass pools have the shortest installation time (3-6 weeks)
Typically, installing a pool takes months and involves several steps. And usually, it's building the pool itself that takes the longest amount of time.
But since fiberglass pools cut that step right out of the equation, their install time is drastically shorter than other options.
How much shorter?
Well, while concrete pools take 3-6 months to install, a fiberglass pool takes just 3-6 weeks.
So when you're ready to install a pool, rest easy knowing that choosing fiberglass means more time in the pool, and sooner.
What type of swimming pool is the strongest?
Fiberglass pools are the most durable and damage resistant
Concrete pools look beautiful, and they can take a myriad of shapes. But they're susceptible to one very pesky problem: cracks.
Eventually, the plaster on the walls of a concrete pool will begin to crack from years of chemical exposure, ground movement, and general wear and tear.
But with fiberglass pools, none of that is a problem. And it's all thanks to their unique 6 layer structure that we mentioned earlier.
Fiberglass pools are flexible compared to concrete pools, and because of this, they're nearly immune to cracking. Any cracks that do show up are just surface cracks on the gel coat. All of which are cheap to repair and usually only appear every 10 years or so.
And since the gel coat of fiberglass pools is also nonporous, it offers more protection against chemical and water damage.
Are fiberglass pools expensive to own?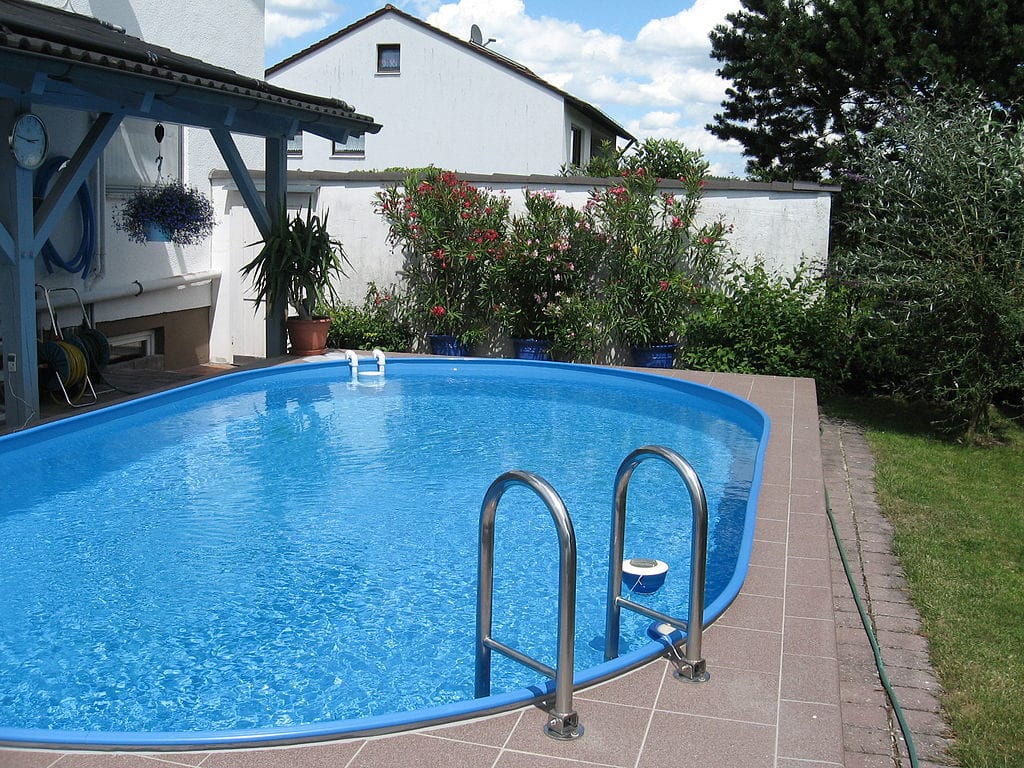 Fiberglass pools require the least electricity and chemicals
We'll sum it up like this:
Fiberglass pools are the most expensive to purchase, and the least expensive to own
You really get what you pay for with fiberglass pools. While they cost you a bit more up front than a concrete pool, they make up for it by requiring low maintenance.
You won't have to replaster a fiberglass pool like you would with concrete, and you don't have to worry about replacing any vinyl.
But even better, fiberglass pools actually save you money. A nonporous surface means less heat, chemicals, and water escaping your pool. But why does that matter?
Well look at it this way:
With concrete and vinyl pools, water and pool chemicals get absorbed through the walls of the structure over time. This is because the surfaces are porous.
While you won't notice this difference right away, it'll reflect in your bills.
Fiberglass pools consume fewer chemicals since they're not eaten up by the pool structure. At the same time, water also circulates better since more of it stays in the pool shell.
Related: 7 Best Ways To Lower Your Swimming Pool Bills
Is buying a fiberglass pool risky?
Fiberglass pools come with excellent warranties
In terms of how long it'll last you, fiberglass pools are the LEAST risky. But you already know that if you've read up to this point.
So let's talk about money.
A few years ago, fiberglass pools WERE considered risky from a financial standpoint.
Initially, they didn't have as much market share as concrete pools. So when you would install a fiberglass poll, it wouldn't increase your home's value anywhere near as much as a concrete pool did.
But fast-forward to present, and fiberglass pools continue increasing in value every year. And they getting closer to the property value increasing status of their concrete and vinyl counterparts.
Do fiberglass pools get stains?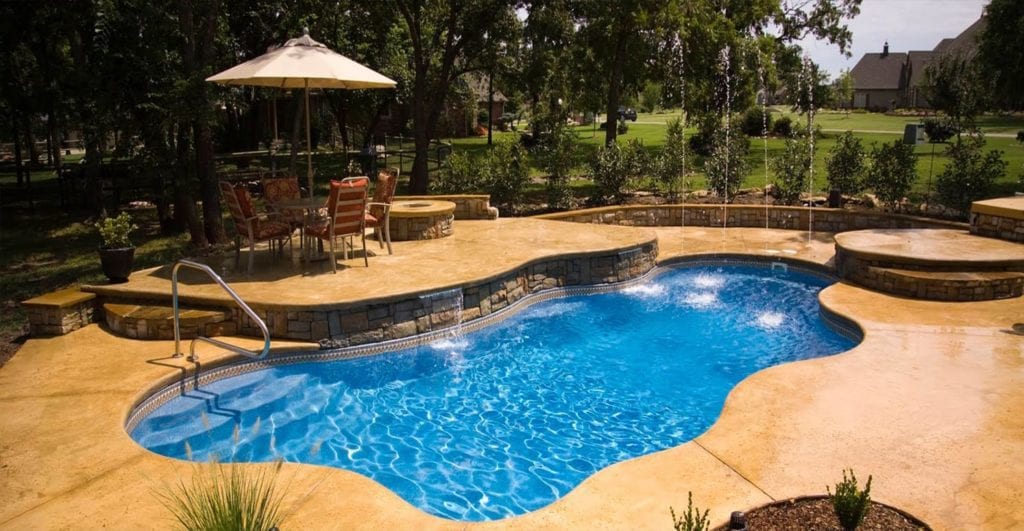 Fiberglass pools are the most stain resistant
Because of the non-porous gel coating, it's much harder for fiberglass pools to acquire stains compared to others. That said it can still happen, but it usually takes a lot.
And as mentioned earlier, it's the gel coating that also makes fiberglass more resistant to pool algae and mineral scaling.
For the most part, as long as you stay on top of pool maintenance, you won't have to deal with any pool stains. But if you do run into some, check out this pool stain removal guide.
Closing thoughts on fiberglass pools
Let's sum up everything in this post about fiberglass pools:
Long lasting
Most affordable to own
Low maintenance
Algae and stain resistant
Quick to install
Increasing in value year by year
If you liked this post, you might also like: